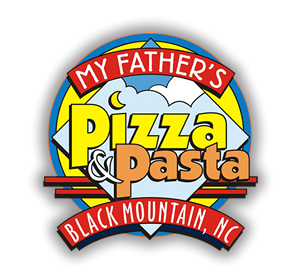 My Father's Pizza
110 Cherry Street
Black Mountain, North Carolina 28711
(828) 669-4944
myfatherspizza@gmail.com 
www.myfatherspizza.com
www.facebook.com/myfatherspizza
My Father's Pizza is a family owned and operated restaurant serving Black Mountain since 1990, we offer mouthwatering fresh pizza, pasta, subs, salads, and a choice beer and wine selection. All of our sauces, dough, meatballs, hummus, and special house dressing are prized family recipes and we make them fresh daily in-house. We also offer gluten free options including pizza crusts, pasta, and beer, as well as lactose free vegan cheese. Our goal is to provide excellent quality and friendly service to our friends, neighbors, and visitors to the area. Savor views of the always beautiful Blue Ridge mountains from our patio, or sit inside and enjoy pleasant conversation and great food in our cozy dining room.