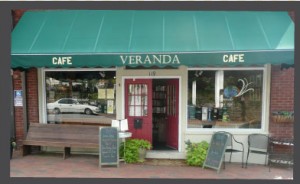 Veranda Cafe and Gifts
119 Cherry Street, Black Mountain, NC 28711
828.669.8864
www.verandacafeandgifts.com
www.facebook.com/pages/Veranda-Cafe-Gifts
verandacafe@gmail.com
Come join us in a unique atmosphere for a delicious assortment of daily specials, six house-made soups, sandwiches, wraps, paninis, salads, decadent desserts and more! Full menu available for take-out. Family owned and operated since 1996.